5 Best Collars For Long Haired Dogs: Stylish, Comfortable, and Durable
Discover the best collars for long haired dogs that balance comfort, style, and durability. Find the perfect accessory for your furry friend, and ensure their collar doesn't mat or tangle their beautiful coat. If you're lucky enough to share your life with a long-haired dog, you know how their luscious locks can add an extra […]
Discover the best collars for long haired dogs that balance comfort, style, and durability. Find the perfect accessory for your furry friend, and ensure their collar doesn't mat or tangle their beautiful coat.
If you're lucky enough to share your life with a long-haired dog, you know how their luscious locks can add an extra layer of charm to their personality. However, there's one thing that often gets tangled up in all that hair. Yes, we're talking about their collar.
Choosing the right collar for your dog is not just about picking a trendy pattern or your favorite color; it's much more than that. It's about finding an accessory that respects their coat, doesn't cause discomfort, and still serves its purpose effectively. This might sound like a tall order but don't fret. This comprehensive guide is here to help you navigate the world of the best collars for long haired dogs.
We'll explore different types of collars, from the ubiquitous flat collars to the secure martingale collars, and the gently rolled collars to the comfortable padded ones, and delve into which materials are best suited for our fur babies' luxurious coats.
You'll discover that finding the perfect collar isn't a herculean task after all. So sit back, cuddle up with your fluffy companion, and let's embark on this journey to find the best collar for your long-haired canine friend.
Understanding Your Long-haired Dog's Needs
First things first, why do we even need specific collars for long-haired dogs? Isn't a collar just a collar?
Long-haired dogs require collars that won't mat or damage their fur, ensuring they stay as comfortable and happy as possible. And, of course, looking good is a bonus too!
Key Factors to Consider
When choosing the best collars for long haired dogs, there are a few essential factors you'll want to consider. Remember, it's not just about the looks!
Comfort
The most crucial factor is comfort. Your dog will be wearing this collar for a significant portion of the day, so it's vital to ensure it's comfortable and doesn't irritate their skin or pull on their fur.
Durability
Long-haired dogs often have thick coats, which means their collar needs to be durable.
Material
The collar material plays a significant role in comfort and durability. Some materials are better suited for long hair than others, we'll get into this shortly.
Size
Dogs come in all shapes and sizes. Make sure you measure your dog's neck accurately before purchasing a collar.
The Best Materials for Collars
Now that we know what to look for, let's dive into the specific materials that work best for long-haired dogs. This might feel a bit like a science lesson, but trust us, it's worth it.
Leather
Leather is a fantastic option for long-haired dogs. Why, you may ask? It's smooth, durable, and less likely to cause matting or damage to the hair. Plus, it looks pretty classy too.
Nylon
Nylon collars are another great choice. They're strong, durable, and available in a plethora of colors and designs. However, ensure the nylon is smooth and well-made to prevent hair damage.
Neoprene
Neoprene collars are soft, quick-drying, and extremely durable. Perfect for your adventurous long-haired dogs.
5 Best Collars For Long Haired Dogs: Stylish, Comfortable, and Durable
Hamilton 1″ x 22″ Burgundy Rolled Leather Dog Collar
Unmatched Comfort for Your Canine Companion
The Hamilton 1″ x 22″ Burgundy Rolled Leather Dog Collar provides superior comfort that your furry friend will appreciate. Tailored for long-haired dogs, this collar's ergonomic design ensures it doesn't irritate or mat the fur. Its well-padded interior alleviates any pressure on your dog's neck, making it perfect for long walks or rigorous outdoor sessions. Don't compromise on your pet's comfort; let them enjoy their adventures with the utmost ease, courtesy of Hamilton's high-quality leather collar.
All-Weather Durability
Beyond comfort, this collar offers unrivaled durability that withstands all weather conditions. Whether it's a sunny day in the park or a wet hike through the woods, this collar stays resilient. The burgundy leather doesn't lose its vibrant hue or soft texture, maintaining an appealing look. Choose the Hamilton Burgundy Rolled Leather Collar, built to last and never let you down.
Effortless Style with a Classic Touch
Although only available in rich burgundy, the Hamilton Rolled Leather This collar is the perfect accessory to complement your long-haired dog's beauty without overpowering it. The classic design, combined with the vibrant burgundy color, adds a touch of sophistication and class to your pet's look. Invest in an accessory that effortlessly combines style, comfort, and durability.
Coastal – Circle T – Latigo Leather Round Dog Collar
Unparalleled Comfort for Your Furry Friend
Allow your four-legged companion to stride in style with the Coastal – Circle T – Latigo Leather Round Dog Collar. Expertly crafted with high-quality, enduring leather, this collar offers unprecedented comfort and durability. Its unique rounded design prevents rubbing and irritation, making it the perfect pick for dogs with long hair or sensitive skin. With each wear, witness your furry friend's satisfaction.
An Elegant Style That Lasts
Invest in an accessory that remains vibrant and stylish, even as time passes. Despite constant wear, the Coastal – Circle T – Latigo Leather Round Dog Collar maintains its rich coloring and natural beauty. Not only will your pet be the most fashionable on the block, but the collar's enduring aesthetic will also stand out in every season and setting. From leisurely walks in the park to adventurous hiking trips, this collar is set to impress.
Witness the Wonder of Handcrafted Quality
There's a certain charm in handcrafted accessories, and the Coastal – Circle T – Latigo Leather Round Dog Collar is no exception. With keen attention to detail and the use of durable leather, this collar stands as a testament to quality craftsmanship. It is more than a mere collar, it's a testament to your love for your pet and your commitment to providing them with nothing but the best.
CollarDirect Rolled Leather Dog Collar

Unparalleled Comfort for Your Canine
Experience a matchless blend of comfort, style, and durability with CollarDirect Rolled Leather Dog Collar. This lightweight collar promises a soothing touch, yet enduring performance. It's more than just a collar, it's a token of love that your furry friend will appreciate. It keeps your dog comfortable while not interfering with their fun activities.
Sizing
Whether you own a petite pooch or a large hound, these leather collars cater to a variety of sizes. With a width of 0.5 inches and a length of 13 inches, they fit neck sizes ranging from 9 – 12 inches. For the best fit, do take a moment to consult the size chart before purchasing.
Provide your beloved pet with the comfort they deserve while maintaining their fabulous look effortlessly.
BRONZEDOG Rolled Leather Dog Collar Personalized QR Id Tag Soft Round Collars
BRONZEDOG Rolled Leather Dog Collar is a stunning piece designed to provide the utmost comfort to your long-haired canine. The soft, round collars are crafted with high-quality genuine leather that feels gentle against the dog's fur, preventing matting and tangling. It's perfect for dog owners who are in search of a collar that matches the elegance of their furry friends without compromising on comfort.
Radiate Style and Durability
Packed with functionality and personality, Bright Leather Dog Collar stands as an unbeatable choice for those desiring style and resilience. Available in a variety of vibrant colors, this collar allows your pet to showcase their unique personality.
The BRONZEDOG Rolled Leather Dog Collar comes with an innovative personalized QR Id tag. This feature increases the safety and security of your beloved pet, ensuring they can always find their way home. The digital era has transformed traditional pet identification, and this collar is at the forefront, integrating the latest technology with classic style.
Auburn Leathercrafters Rolled Dog Collar

The Perfect Match: Luxurious Comfort and Style
The Auburn Leathercrafters Rolled Dog Collar offers a fusion of style, comfort, and practicality. Its plush design and hand-polished edges are ideal for long-haired dogs, ensuring a comfortable experience free of tangled or matted fur. This collar is the epitome of luxury that promises to keep your canine companion looking chic and feeling great even during extended outdoor play sessions.
Size Matters: A Collar for Every Canine
Finding the perfect size for your dog's collar is crucial for their comfort and safety. With Auburn Leathercrafters Rolled Dog Collar, you're presented with a variety of size options, catering to a broad spectrum of breeds and sizes. This ensures a perfect fit for your long-haired friend, preventing the collar from being too loose to slip off or too tight to cause discomfort.
Different Kinds of Dog Collars for Long Haired Dogs
Just as there are countless breeds of dogs, there are also a myriad of collar types to choose from. It's not just about picking the most stylish or colorful collar, choosing the best collars for long haired dogs will significantly impact their comfort and well-being. Let's delve deeper into the different kinds of dog collars suitable for long-haired dogs.
1. Flat Collars
Flat collars are the most common type of collar for dogs. They are usually made of nylon or leather and come equipped with a buckle or a quick-release fastener. They are easy to put on and take off, and they are adjustable for a perfect fit. For long-haired dogs, look for flat collars with a smooth interior to prevent hair from tangling.
2. Rolled Collars
Rolled collars are usually made of rolled leather or nylon. The rounded design reduces the flat surface area that rubs against the dog's fur, making them a great choice for long-haired dogs as they are less likely to cause matting or hair damage.
3. Padded Collars
Padded collars, as the name suggests, come with extra padding on the inner side. This feature provides added comfort and is less likely to cause hair breakage, making them an excellent choice for long-haired dogs. They come in various materials, but for long-haired breeds, a padded leather or nylon collar would be ideal.
4. Personalized Collars
If you want to combine style, comfort, and safety, consider a personalized collar. These collars can be engraved with your dog's name and contact information, which is useful if your pet ever gets lost. When choosing a personalized collar for a long-haired dog, select a material and design that won't tangle or damage the fur.
5. Reflective or Lighted Collars
Reflective or lighted collars are designed with safety in mind. They are perfect for those late-night or early-morning walks, as they increase your dog's visibility. This type of collar often comes in nylon with a reflective strip or LED lights. Choose one with a smooth and well-finished interior for your long-haired pup.
Remember, choosing the right type of collar for your long-haired dog involves considering various factors, including your dog's comfort, the collar's functionality, and its impact on your dog's fur. With the myriad of options available, you'll surely find one that's perfect for your furry friend!
How to Correctly Size a Dog Collar?
Alright, you've chosen the perfect material and design, but what about the size? An incorrectly sized collar can cause a host of issues. So, how do we accurately size a dog collar?
1. Measuring Your Dog's Neck
Use a soft measuring tape to measure around your dog's neck where the collar would naturally sit. Make sure it's not too tight, you should be able to fit two fingers comfortably between the tape and your dog's neck.
2. Refer to the Size Chart
Most brands provide a size chart. Always refer to this chart before purchasing to ensure the collar will fit your furry friend perfectly.
3. Adjustability
Choose a collar that's adjustable. Dogs grow, and their weight may fluctuate, so an adjustable collar can save you from buying a new one every few months.
Maintaining Your Dog's Collar
Once you've found the perfect collar, maintaining it properly will ensure it stays in top shape. Here's how:
1. Regular Cleaning
Depending on the material of your dog's collar, it may need regular cleaning. Check the manufacturer's instructions and follow them closely.
2. Inspect for Wear and Tear
Over time, collars can show signs of wear and tear. Regularly check the collar for any damage to ensure it's still safe and comfortable for your dog to wear.
3. Remove for Grooming
When grooming your long-haired dog, remember to remove the collar. This allows you to groom their neck area properly and gives the collar a break.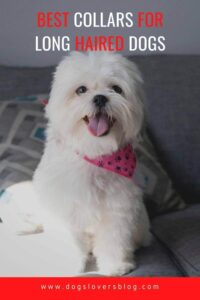 Final Thoughts
Choosing the best collars for long haired dogs is not just about style, it's about ensuring their comfort, safety, and health. It may seem like a minor detail, but the right collar can make a significant difference in your pet's overall well-being.
Armed with the knowledge from this guide, you're now well-prepared to make the best choice for your furry friend. Remember, every dog is unique, so what works for one may not work for another. Your long-haired companion will surely appreciate the effort!
FAQ Section
Let's wrap things up by addressing some frequently asked questions. This section will clear up any remaining queries you might have about the best collars for long haired dogs.
Q1: Are harnesses better than collars for long-haired dogs?
Harnesses can be a good alternative to collars, especially for dogs who pull on their leash or have respiratory or trachea problems. They also don't tangle the fur around the neck. So, the choice between a collar and a harness will depend on your specific dog's behavior and health condition.
Q2: How often should I replace my dog's collar?
The frequency of replacing your dog's collar depends on several factors, including the collar's material and how active your dog is. As a general rule, you should replace your dog's collar when it starts showing signs of wear and tear or if it no longer fits properly. Regular inspection and proper maintenance can help extend the lifespan of a collar.
Looking For the best collars for long haired dogs and dog products like this?
Find more great dog & puppy products and other best collars for long haired dogs ideas in the articles below:
5 Best Dog Collars For Sensitive Necks: Keep Your Furry Friend Comfortable
The 7 Best Dog Collar With Name Plates: How to Find the Perfect Fit for Your Pet
10 Best Dog Collars For Sensitive Skin – The Ultimate Guide
5 Best Dog Collars For Pulling: Make Your Dog More Comfortable
7 Best Custom Dog Collars with Names and Phone Numbers: Stay Safe and Stylish
5 Best Fall Dog Collars: Your Dog Will Be the Most Stylish at the Park
5 Best Large Dog Breed Collars – Dog Collars For Big Dogs
5 Best Dog Collars for Hunting Dogs: A Comprehensive Guide to Finding the Best One for Your Dog
Subscribe to our Reddit Community, for tips, and updates on Facebook or Pinterest.