Bellio-Tx
Meet adoptable deaf bully mix Bellio who is looking for a loving home where he will be an only pet. He needs a home with someone who will cherish him, teach him new things and keep him safe. He is currently in boarding at a vet and really needs a home to go to. [...]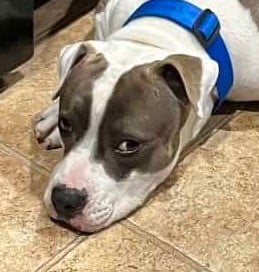 Meet adoptable deaf bully mix Bellio who is looking for a loving home where he will be an only pet. He needs a home with someone who will cherish him, teach him new things and keep him safe. He is currently in boarding at a vet and really needs a home to go to.
From his current caregiver: Loving spunky young boy that needs a single animal household. I found him in medical center about 3 months ago when I was riding my bike on my lunch break.  He came right up to me but then noticed on his collar it said "Deaf Dog". I watched him almost get hit by multiple vehicles while I was biking to him so I knew I had to take him to my vet clinic to board/vaccinate. I searched for his parents for months on every site I could post him on, the people on the microchip he has says it is the wrong phone number, that they don't own him. He absolutely loves to cuddle, he loves children, and he loves to have his face rubbed. I recently had him neutered and vaccinated. Bellio has lost 12 pounds already since I found him so he is at a healthy weight 65 pounds. He is brown and white with hazel eyes.
I believe he is Pitbull/Boxer mix. He is estimated to be around 4 years old. He is very sweet and could never harm a human but he has showed he does not like cats, other dogs or birds. Bellio loves to sleep close to his human and in a little bed. He is not a picky eater at all and he takes medicine very easily.  Bellio loves his stuffed toys and he is a very happy spirited boy and I cannot imagine him without a loving family. Bellio has a bubbly and loving personality.  He does know some hand cues and he is very easy to train.