Graham – DE
Meet adoptable deaf, 2 year old Graham who is looking for a loving forever home with a dog savvy person who will cherish him, make daily positive reinforcement training/socialization/enrichment/structure a priority and always keep him safe. Graham needs a home with no small children or cats. He can get very excited and can easily [...]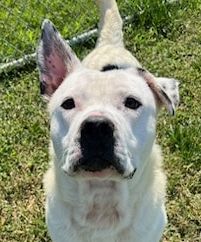 Meet adoptable deaf, 2 year old Graham who is looking for a loving forever home with a dog savvy person who will cherish him, make daily positive reinforcement training/socialization/enrichment/structure a priority and always keep him safe. Graham needs a home with no small children or cats. He can get very excited and can easily knock a small child over.
From his current caregiver: Meet adoptable deaf dog Graham is a sweet boy with lots of energy and love to give! He has been with us since September of 2022 and has stolen all of our hearts.
Graham knows several hand signs for commands as well as praise. We originally got him from Cecil County Animal Services. They got him as a stray puppy and quickly learned that he was deaf. they taught him some hand signs and worked on socializing him with dogs that could match his energy, but also positively correct him when he was starting to get ahead of himself.
Ever since we have had him, we've learned more and more about him. He is extremely food motivated and understands his hand signs very well. It can be a bit tough to keep his attention, but treats always help with that. He would do best in a home with no other cats and likely with no very young children that don't understand the restrictions of interacting with a deaf dog. He should be ok with other dogs as long as they can tolerate his energy.