How to Create a Dog-friendly Backyard? Best Tips and Tricks for a Pawsome Outdoor Space
Discover how to create a dog-friendly backyard with our comprehensive guide, covering essential elements, pet-safe plants, fun features, and maintenance tips for a safe, engaging outdoor haven your furry friend will love. As a dog lover, you want your furry friend to have the best life possible, and that includes providing them with a safe […]
Discover how to create a dog-friendly backyard with our comprehensive guide, covering essential elements, pet-safe plants, fun features, and maintenance tips for a safe, engaging outdoor haven your furry friend will love.
As a dog lover, you want your furry friend to have the best life possible, and that includes providing them with a safe and engaging outdoor space. If you're wondering how to create a dog-friendly backyard, you've come to the right place!
In this comprehensive guide, we'll explore everything you need to consider to design the perfect outdoor for your canine companion. You'll have all the information you need to transform your backyard into an amazing place for your dog.
The Importance of a Dog-Friendly Backyard
First and foremost, let's discuss why creating a dog-friendly backyard is essential for your canine companion. Dogs need regular exercise, mental stimulation, and a safe environment to explore and play. A well-designed backyard can provide all of these benefits and more, promoting your dog's overall health and happiness.
Moreover, having a dog-friendly backyard can also offer peace of mind, knowing that your pet is safe and secure while enjoying the great outdoors.
Planning Your Dog-Friendly Backyard
Before diving into the various elements of a dog-friendly backyard, it's crucial to plan and visualize your space. Take the time to observe your dog's habits and preferences to ensure that your design aligns with their needs. Consider the following factors when planning your dog-friendly backyard:
Your dog's breed, size, and energy level: Tailor your backyard design to suit your dog's specific needs. For example, larger breeds may need more space to run and play, while smaller breeds may benefit from lower platforms and ramps.
Your dog's favorite activities: Does your dog love to dig, chase, or climb? Incorporate features that cater to their interests.
Available space and budget: Consider your backyard size and budget when planning your dog-friendly oasis. With a little creativity, you can find solutions that suit both your pet's needs and your financial constraints.
Essential Elements for a Dog-Friendly Backyard
A well-rounded dog-friendly backyard should include a variety of elements that cater to your dog's needs. Below, we outline several essential features to consider incorporating into your design.
A. Fencing
One of the most crucial aspects of a dog-friendly backyard is secure fencing. A sturdy fence not only keeps your pet contained and safe but also offers privacy and protection, such as wildlife or other dogs. When selecting a fence, consider the following factors:
Fence height: Ensure your fence is tall enough to prevent your dog from jumping over it. Generally, a fence at least 6 feet tall should suffice for most breeds.
Fence material: Choose a durable material that can withstand wear and tear from your dog. Wood, vinyl, or metal are all excellent options.
Visibility: If your dog is prone to barking at passersby or other animals, opt for a fence with limited visibility to minimize distractions.
B. Shelter
Your dog-friendly backyard should provide shelter from the elements, such as sun, wind, and rain. Consider providing a designated dog house for your furry friend to retreat to when needed.
C. Water Source
Access to fresh, clean water is essential for your dog's health. Make sure to include a water source in your backyard design, such as a water bowl, fountain, or even a dog-friendly splash pad for hot days. Remember to regularly clean and refill your dog's water source to ensure it remains sanitary.
D. Bathroom Area
Designate a specific area in your backyard for your dog to use as a bathroom. This will help keep the rest of your yard clean and make maintenance easier. Choose a location that's easy to access and clean, and consider using materials like pea gravel or artificial turf that can be easily hosed down. Be sure to provide waste bags and a trash receptacle to encourage prompt waste disposal.
Dog-Friendly Plants and Landscaping
When creating a dog-friendly backyard, it's essential to select plants and landscaping elements that are safe for your pet. Choose plants that are hardy and can recover quickly from any potential damage.
Dog-Friendly Hardscaping and Surfaces
A. Dog-Friendly Surface Options
Some dog-friendly surface options to consider include:
Artificial turf: Soft on paws, low maintenance, and easy to clean.
Pea gravel: Provides good drainage and is easy to walk on for most dogs.
Mulch or wood chips: Soft and comfortable underfoot.
Rubber mulch or rubber tiles: Soft, durable, and weather-resistant.
B. Hardscaping Features
Incorporate hardscaping features like paths, patios, and retaining walls to add structure and interest to your backyard design. Be sure to select materials that are dog-friendly, such as non-slip pavers or flagstone.
Fun Additions to Your Dog-Friendly Backyard
Consider adding some fun features to keep your dog entertained and engaged in their outdoor space. Some ideas include:
Agility course: Set up a DIY agility course with jumps, tunnels, and weave poles for your dog to practice their skills.
Sand or digging pit: If your dog loves to dig, create a designated digging area to help curb the behavior in other parts of the yard.
Toys and games: Include outdoor toys like balls, frisbees, or a tetherball for endless entertainment.
Dog Safety Considerations
As you design your dog-friendly backyard, prioritize your pet's safety with the following tips:
Regularly inspect your fence for damage or potential escape routes.
Store gardening tools out of your dog's reach.
Keep an eye out for potential hazards, such as sharp objects, holes, or exposed wires.
Maintenance and Cleaning Tips
A well-maintained dog-friendly backyard not only looks great but is also safer and more enjoyable for your pet. Follow these maintenance and cleaning tips to keep your backyard in tip-top shape:
Regularly pick up and dispose of pet waste to maintain a clean and sanitary environment.
Trim plants and grass to prevent overgrowth and minimize hiding spots for pests.
Inspect and repair any damaged hardscaping elements, such as paths or retaining walls.
Routinely clean water sources, toys, and shelter areas to ensure your dog's health and comfort.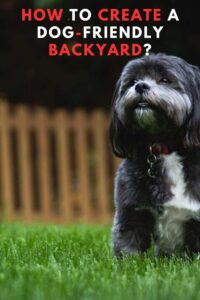 In Conclusion
Creating a dog-friendly backyard can significantly enhance your pet's quality of life, providing a safe and engaging space for them to enjoy the outdoors.
By considering your dog's needs, selecting appropriate materials and plants, and incorporating fun and practical elements into your design, you can transform your backyard into a wonderful space.
Remember that regular maintenance and safety checks are crucial to ensure your dog's outdoors remains enjoyable and hazard-free. With a little time, effort, and creativity, you can create a dog-friendly backyard that both you and your furry friend will love for years to come.
You May Also Like
10 Fun Indoor Games For Dogs: Boost Your Dog's Happiness with These Exciting Games
The 15 Best Dog Swimming Pools
Essential Dog Beach Accessories
8 Best Retractable Dog Leashes for Walking Your Dog
10 Best Reflective Dog Collars – Rankings & Reviews
Top 10 Best Dog Grooming Gloves
Subscribe to our Reddit Community, for tips, and updates on Facebook or Pinterest.