Las Vegas Vendor Spotlight: The Barkery LLC
Vendor Spotlight: The Barkery LLCService: Professional Customized Pet GoodiesBusiness Highlight: Woman-Owned      Calling all dog moms and dads! FairyTail Pet Care - Las Vegas has recently partnered with an amazing new small business located here in Vegas to help better serve you and your pup. Meet Kierra, the owner of The Barkery LLC. She is our neighborhood dog baker who offers organic dog goodies to ensure your pet lives a long, healthy, and tail-waggin' life.Kierra was compelled to start her business in 2020 when she put conscious thought into what exactly she was feeding her dogs and how she wanted to make a healthy and yummy alternative. She started researching tons of recipes and bringing her treats to coworkers at her job. When she saw that her coworkers' dogs were going crazy over her treats, she knew she had something special. Since then, Kierra has committed to creating recipes using only organic ingredients for everything she makes. Over the past two years, her business has expanded into so much more than she could've ever imagined. Not only does she bake organic dog treats, she also creates custom dog cakes, donuts, macaroons, and more!Be sure to check out The Barkery's paw-some work:Website: https://www.thebarkerylv.com/ Instagram: https://www.instagram.com/thebarkeryyy/ TikTok: https://www.tiktok.com/@thebarkeryyy Facebook: https://www.facebook.com/thebarkeryyy Pinterest: https://www.pinterest.com/thebarkeryyy/  FTPC-LV Wedding Cake Collection Row 1- Dog Of Honor Row 2- Dogs Plus One Row 3- Yappily Ever After Row 4- FairyTail Magic Row 5- Furever Family Row 6- Puppy Kisses     FTPC-LV Pupcake CollectionOption 1- Best Pup Option 2- Viva Las FairyTail Option 3- Flower Pup Option 4- Pawfect Day  More Details If You're Interested In Adding This Service To Your Las Vegas FairyTail Wedding:On your wedding day, everything is about you and it's finally the day where the two of you can celebrate each other with loved ones. Our goal at FairyTail is to ensure that your furry best friend is able to join in to celebrate the love, too! To help make it the best day ever for your pet, we are partnering with The Barkery LLC to provide your pet(s) with customized wedding treats for the big day. If you are interested in adding on customized pup-goodies for your furry best friend on the wedding day, then email us directly and we will work with our pup-caterer to provide this for you! Pricing:Organic 4" Customized Wedding Cake (1)$50Includes pick-up and delivery on wedding day Flavors (pick one): banana-carrot, coconut-berry, peanut butter, pumpkinIcing color: pastel colors Wedding Cupcakes (½ dozen) $45Includes pick-up and delivery on wedding dayFlavors (pick one): banana-carrot, coconut-berry, peanut butter, pumpkinIcing color: pastel colorsAll Organic Treat Bag (4 oz)$15Seasonal Wedding Treat BagIncludes pick-up and delivery on wedding day Flavors (pick one for each 4oz bag): anti-inflammatory, banana-carrot, cinnamon roll cookie, blueberry-oat, brownie, or pumpkinOrganic Gourmet Cookie Box $406 Small Dog Cookies & 1 Medium Dog Cookie *wedding themed*Includes pick-up & delivery on wedding day Flavors/Icings: Pumpkin and pastel icing colorsPlease note: Minimum order value of $30. All orders must be placed no later than 3 weeks prior to your wedding date. Custom treats will be distributed to FairyTail Pet Care - Las Vegas directly and provided on the day of the wedding. This is to allow enough time for quality treat production (you can't rush art!) and on-time delivery. This add-on is a pur-fect option for local and destination couples alike for a convenient service offering delivery of a custom treat. You
Vendor Spotlight:
The Barkery LLC
Service: Professional Customized Pet Goodies
Business Highlight: Woman-Owned 
Calling all dog moms and dads! FairyTail Pet Care - Las Vegas has recently partnered with an amazing new small business located here in Vegas to help better serve you and your pup. Meet Kierra, the owner of The Barkery LLC. She is our neighborhood dog baker who offers organic dog goodies to ensure your pet lives a long, healthy, and tail-waggin' life.
Kierra was compelled to start her business in 2020 when she put conscious thought into what exactly she was feeding her dogs and how she wanted to make a healthy and yummy alternative. She started researching tons of recipes and bringing her treats to coworkers at her job. When she saw that her coworkers' dogs were going crazy over her treats, she knew she had something special. Since then, Kierra has committed to creating recipes using only organic ingredients for everything she makes. Over the past two years, her business has expanded into so much more than she could've ever imagined. Not only does she bake organic dog treats, she also creates custom dog cakes, donuts, macaroons, and more!
Be sure to check out The Barkery's paw-some work:
Website: https://www.thebarkerylv.com/ 
Instagram: https://www.instagram.com/thebarkeryyy/ 
TikTok: https://www.tiktok.com/@thebarkeryyy 
Facebook: https://www.facebook.com/thebarkeryyy 
Pinterest: https://www.pinterest.com/thebarkeryyy/  

FTPC-LV Wedding Cake Collection 
Row 1- Dog Of Honor 

Row 2- Dogs Plus One 

Row 3- Yappily Ever After 

Row 4- FairyTail Magic 

Row 5- Furever Family 

Row 6- Puppy Kisses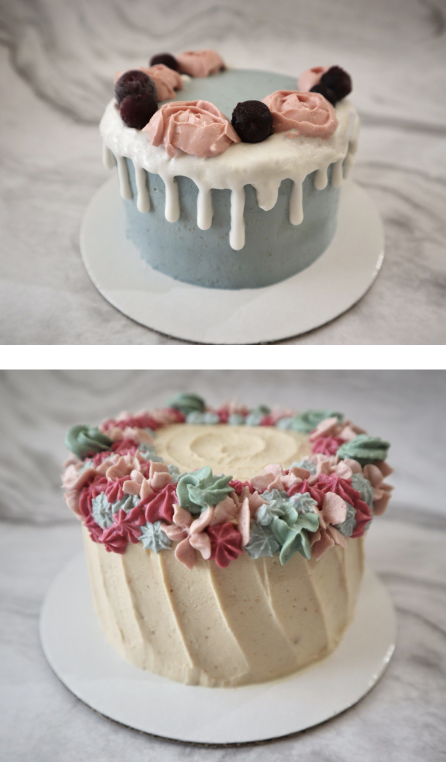 FTPC-LV Pupcake Collection
Option 1- Best Pup 

Option 2- Viva Las FairyTail 

Option 3- Flower Pup 

Option 4- Pawfect Day 
More Details If You're Interested In Adding This Service To Your Las Vegas FairyTail Wedding:
On your wedding day, everything is about you and it's finally the day where the two of you can celebrate each other with loved ones. Our goal at FairyTail is to ensure that your furry best friend is able to join in to celebrate the love, too! To help make it the best day ever for your pet, we are partnering with The Barkery LLC to provide your pet(s) with customized wedding treats for the big day. If you are interested in adding on customized pup-goodies for your furry best friend on the wedding day, then email us directly and we will work with our pup-caterer to provide this for you! 

Pricing:
Organic 4" Customized Wedding Cake (1)
$50
Includes pick-up and delivery on wedding day 

Flavors (pick one): banana-carrot, coconut-berry, peanut butter, pumpkin

Icing color: pastel colors 
Wedding Cupcakes (½ dozen) 
$45
Includes pick-up and delivery on wedding day

Flavors (pick one): banana-carrot, coconut-berry, peanut butter, pumpkin

Icing color: pastel colors
All Organic Treat Bag (4 oz)
$15
Seasonal Wedding Treat Bag

Includes pick-up and delivery on wedding day 

Flavors (pick one for each 4oz bag): anti-inflammatory, banana-carrot, cinnamon roll cookie, blueberry-oat, brownie, or pumpkin
Organic Gourmet Cookie Box 
$40
6 Small Dog Cookies & 1 Medium Dog Cookie *wedding themed*

Includes pick-up & delivery on wedding day 

Flavors/Icings: Pumpkin and pastel icing colors
Please note: Minimum order value of $30. All orders must be placed no later than 3 weeks prior to your wedding date. Custom treats will be distributed to FairyTail Pet Care - Las Vegas directly and provided on the day of the wedding. This is to allow enough time for quality treat production (you can't rush art!) and on-time delivery. This add-on is a pur-fect option for local and destination couples alike for a convenient service offering delivery of a custom treat. Your pup won't want to miss this!