Reasons People Board Their Dogs
Overnight dog boarding has become a popular solution for dog owners in need of temporary care for their furry companions. […]
Overnight dog boarding has become a popular solution for dog owners in need of temporary care for their furry companions. People board their dogs for various reasons, ranging from vacations and business trips to emergencies and renovations. In this blog post, we'll discuss some of the top reasons why people board their dogs and explain how dog boarding can benefit both dogs and their owners.
Vacation or Business Trips
One of the most common reasons people board their dogs is to enjoy a vacation or attend business trips. If you're planning to go out of town and it's impossible to take your furry friend along with you, boarding your dog is an excellent option. Boarding facilities like ours provide dogs with a safe and comfortable environment where they can receive adequate attention and care, including feeding, exercise, and medication if needed. By boarding your dog, you can have peace of mind knowing that your furry friend is safe and happy, and you can enjoy your trip without worrying about your dog's well-being.
Emergencies or Unexpected Situations
Emergencies and unexpected situations can occur at any time, and sometimes, they require dog owners to leave their pets behind. For instance, if you have to visit the hospital, relocate, or face an emergency situation like a house fire, you may not have time to make proper arrangements for your canine companion. During such times, boarding your dog can be a suitable option. Dog boarding facilities provide an attentive environment that ensures the safety and well-being of your dog until you can return.
Home Renovations or Construction
Home renovations or construction can be a noisy, dusty, and risky environment for dogs. The constant banging, drilling, and dust can be detrimental to your dog's health and well-being. Additionally, dogs can easily escape through open doors or windows, which puts them at risk of accidents or getting lost. Boarding your dog can prevent any risks associated with home renovations or construction. Your dog can stay at a dog boarding facility where they can remain safe and secure while you complete the necessary work on your home.
Dog Training and Socialization
Dog boarding facilities also offer training and socialization services to dogs. Dog owners can choose to board their dogs in a training facility where they can receive basic obedience training, behavior modification training, and socialization skills. Boarding your dog in a training facility can provide an opportunity for your dog to learn new skills, behavioral techniques, and socialize with other dogs. Additionally, boarding your dog for training can save you the hassle of scheduling day classes or making adjustments to your busy schedule.
Providing a Safe Environment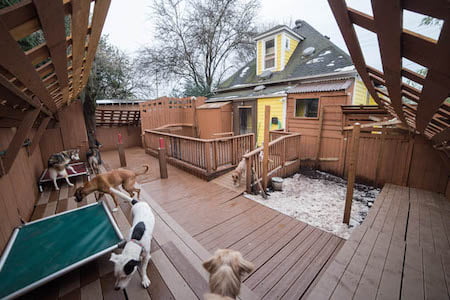 Boarding facilities provide dogs with a safe environment where they can enjoy the company of other well-behaved dogs and receive attention and care from trained staff. It's a safe environment for all dogs to play, rest and socialize. Additionally, most facilities offer ample outdoor and indoor play/exercise areas, so your dog will have plenty of opportunities to keep active and healthy.
In conclusion, boarding your dog can be an excellent solution for short-term care. It provides your furry friend with a safe and comfortable environment, proper care, training, and opportunities for socialization. As a pet owner, it's always essential to choose a boarding facility that suits your dog's needs and requirements. We recommend finding a facility with professional staff, a clean and safe environment, and ample opportunities for play and exercise. By understanding the different reasons people board their dogs, you can make the best decision for your furry friend and enjoy your moment away without the worry of them being left alone.
Your Local Dog Boarding Facility In Portland, OR
Safe Journey Dog Boarding is Portland, Oregon's premier place for dog overnight cage-free boarding and dog daycare. At Safe Journey, your four-legged friend will always be free to roam, play, and socialize 24 hours a day, 365 days per year. With us, you don't have to worry about the quality of care your pet is receiving after drop-off. Our dog boarding and dog daycare facility provides a safe, comfortable, relaxed, home-style environment for your dog. This minimizes your and your dog's stress and anxiety while you are away. Our high-frequency dog visitor clientele helps ensure that your dog is able to hang out with a well-mannered dog pack. Many of your dog's playmates at Safe Journey have spent hundreds and even thousands of days here with us. If you have any questions or concerns, feel free to check out our FAQ or call us today.