Trigger Stacking In Dogs
A woman was telling me the other day about how she couldn't understand why her dog 'out of the blue' barked and lunged at someone he sees and solicits pets from all the time. Someone else was telling me about how his dog, that is very friendly, 'out of the blue' growled at a child […] The post Trigger Stacking In Dogs first appeared on So Much PETential.
A woman was telling me the other day about how she couldn't understand why her dog 'out of the blue' barked and lunged at someone he sees and solicits pets from all the time. Someone else was telling me about how his dog, that is very friendly, 'out of the blue' growled at a child who walked up to him as they were leaving the groomers. If your dog has ever reacted in an unusual (for your pet) outburst of behavior in a situation. it could be because of trigger stacking. I'll explain.
When there is an abrupt behavior change, solving it in the most positive way requires looking carefully at the environment to see what changes have occurred that are impacting behaviors.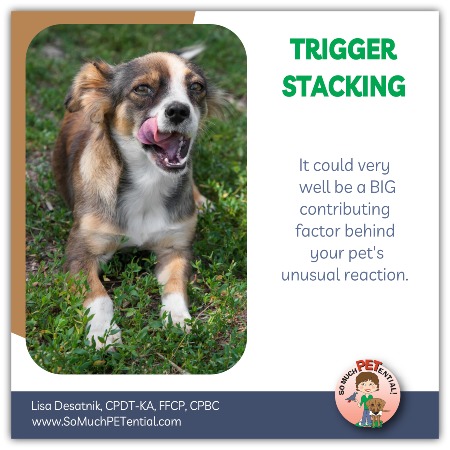 In the above cases, one possibility in the first scenario could be that the woman's friend was wearing a hat and the dog is afraid of hats or at the groomers, it could be that the child moved in a way that frightened the dog. While those things, in and of themselves, may not have been enough to push the dog over threshold to where the dog lunged and growled, there very well could have been something else at play.
Trigger Stacking
Trigger stacking occurs when numerous stress inducing stimulus occur simultaneously or within a relatively short period of time, and thus collectively decrease an animal's coping tolerance.
It is probably fairly safe to say that trigger stacking is something that all of us have experienced at one time.
Can you relate to this story?
The other day, I got out of bed at 6:30 am to make my way into the kitchen where my coffee maker was waiting. However, on that day, I was already awake when my alarm clock rang. In fact, I was awake most of the night. My mind filled with thoughts from an unpleasant conversation the night before. I was still exhausted but too restless to go back to sleep.
Instead, I packed my bag for the gym. If ever there was a morning that I needed a workout, it was that morning. But I was interrupted by a call. My dad needed help and that was more important. Still, I really could have benefitted from a workout. I was late getting home to get my animals up, fed and taken care of which caused me to feel stress because it was going to make me late for my first appointment.  I actually would have gotten there on time but I realized when turned my car ignition that the gas tank was close to empty.
"I'll just get a couple gallons," I thought. "It won't take but an extra minute."
Well, on any other day it may have but, on this day, the credit card reader was malfunctioning. I tried and tried. My frustration raising, I walked to the cashier and stood behind a short line of others. She was having a difficult time processing credit cards too. I had reached my limit. "This is ridiculous," I said before dropping a $10 bill on the counter to more than pay for my gas and stormed out.
Normally the situation at the gas station would not have caused me to react that way. What happened on that morning?
Trigger stacking happened.
A stressful event (and that can be good or bad stress) affects a dog physically. Among the impact is a rise in cortisol levels, the stress hormone associated with a dog's flight or fight biological instinct. It can take hours and even days for those hormones to return to normal. Until then, that dog has much greater sensitivity.
What causes stress varies with every animal. Some possible causes can include pain or illness, lack of rest, an unpleasant vet or grooming appointment, crowded and loud places, or having a resource taken away, exposure to scary people or dogs.
Trigger stacking is an important consideration when you see a sudden eruption of reaction from your dog.
A home with very young, active children who run and use loud voices…and a dog, has the potential for lots of trigger stacking. I have seen this many times. This can be very stressful for a dog and with no ability to get relief and distance, it is only a matter of time before that dog will reach a limit and react with a growl, bark, lunge or worse. It is really important that parents know how to advocate for their dog, be dog aware, practice active adult supervision, careful management, and ensure their dog's other needs are being met.
I was at a home the other day where my clients told me about an incident when their dog, who had not guarded a toy in a long time, put his paws over the toy, gave a hard stare and growled when the husband came near. Further questioning revealed that that day the dog had been to the vet in the morning and then was stressed by men working in the yard that afternoon. This is another example of the effects of trigger stacking.
Tips for preventing, recognizing, and helping your dog when it comes to trigger stacking.
Learn how to understand your dog's body language. Your dog may communicate in very subtle or very obvious ways that it is stressed. A few examples to watch for include yawning, raising of one paw, stiffness in body muscles, lowered and tucked tail, avoidance behaviors (or straight stare at trigger), lip licks, or growling. Please click here to see my post with video links on dog body language. If you see these signs, take action to give your dog space from the stressor.
Get to know what triggers are for your dog. And of note here, triggers do not necessarily need to be events that cause anxiety in your dog. Rambunctious play and a houseful of guests to socialize with cause different kinds of stress but still stress. Triggers also may be less obvious such as a change in routine, hunger, or lack of sleep. Other factors that contribute to trigger stacking include closeness, intensity, and duration of a stimulus.
Practice prevention and management. If you are having guests over and you know your dog can become nervous around new people or children, keep your dog in a place where it does not have to interact. Avoid bringing your dog to large crowds or dog parks if those settings can be stressful. Practice ahead of your vet visit strategies for teaching your pet positive associations with going to the doctor. If your dog is showing signs of being stressed, again, take steps to provide your dog relief .  If your dog already experienced a stressful event, provide it with a quiet alone place that is void of stress. These are just a few ideas.
Remember, you are your pet's advocate. Cumulative stress lowers your pet's tolerance, and thus bite threshold. Please remember, you are your pet's advocate and do what you can to reduce stress. Your pet – and everyone with whom it comes in contact – will thank you.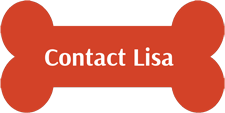 The post
Trigger Stacking In Dogs
first appeared on
So Much PETential
.