Why Dogs Eat Poop
If you're a dog owner, you've probably encountered the not-so-pleasant phenomenon of your canine companion eating poop. You may be […]
If you're a dog owner, you've probably encountered the not-so-pleasant phenomenon of your canine companion eating poop. You may be wondering what drives this behavior or if it could potentially signal an underlying health issue – questions that we'll answer here in our blog post all about why dogs eat poop. As your local dog sitting, doggy daycare, and dog boarding facility, we've encountered this issue quite often. We'll share a few of the possible reasons behind this unpleasant habit as well as tips and tricks on how to prevent it. So continue reading to find out why dogs eat stool and what you can do when they do!
1. THEY SIMPLY LIKE DOING IT
It may sound strange, but for some dogs, eating poop is a behavior that's rooted in the primal instinct to explore with the senses of smell and taste. This is why puppies generally investigate new objects by sniffing and even tasting them – it's just part of their natural curiosity! But even if your pup isn't still in the exploration stage, they might simply be drawn to the smell and texture of poop, which can be quite appealing at first.
To discourage this kind of behavior, make sure to closely monitor your dog when they're outside so you can interrupt the behavioral loop as soon as you notice it happening.
2. THEY WERE TAUGHT TO DO SO BY THEIR MOM
Believe it or not, oftentimes poop eating is a behavior puppies learn from their mothers! This behavior is actually a natural form of cleaning the den by female canines who instinctively want to keep the environment clean and free of parasites and disease. The puppies watch and learn, and before you know it, they're following in their mother's footsteps!
Thankfully, this bad habit is usually easy to break with proper animal training.
3. THEY AREN'T GETTING ENOUGH FOOD OR NUTRIENTS
You may be surprised to find out that if your dog is eating poop, it is likely because they are actually hungry and not getting enough food and nutrients. Stool usually contains protein and fat, which can help fulfill your pup's nutrient needs, so they are drawn to eat it. Unfortunately, this behavior can become a habit, so it is important to ensure that your pup is eating enough of their regular pet food and getting the nutrients that they need for optimal health.
If you have any questions or if you feel that your pup isn't eating enough, be sure to check with your veterinarian.
4. THEY ARE BORED/TRYING TO GET YOUR ATTENTION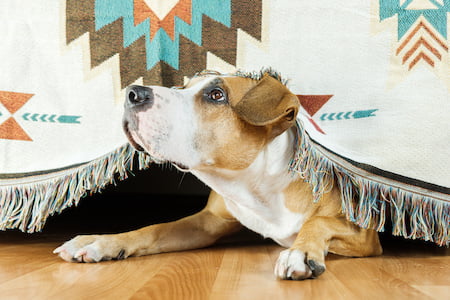 When dogs are bored or ignored, they may resort to trying all sorts of tactics—including eating poop—to get your attention. So, if your pup seems to be exhibiting similar behavior, try providing them with enriching activities like walks or playing games together. Not only will your furry friend receive exercise and mental stimulation from these activities, but you'll also create a stronger bond with them and ultimately get rid of those pesky poop-eating habits! If you are a pet owner that works, enrolling your pup in dog-sitting or doggy daycare can be extremely helpful!
5. THEY ARE FEELING ANXIOUS
If your pup has started chowing down on their own feces lately, it could be a sign that they're feeling anxious. Eating poop can often be the result of stress or anxiety for dogs. This could be due to anything from fear of a new environment or new people, feeling unhappy about being left alone for extended periods of time, or being placed in a stressful situation. If your pup is displaying this type of anxiety-related behavior, it's important to take steps toward helping them feel more relaxed and secure.
Consult your vet for advice on how best to handle your specific situation.
6. POSSIBLE MEDICAL CAUSES
Eating poop, medically known as coprophagia, is an unpleasant condition in dogs that can also be caused by several different medical issues. These can include:
Dietary deficiencies in vitamins or minerals
Insufficiencies of digestive enzymes
Parasitic infestations
Certain medications
And more.
If your dog is exhibiting coprophagia, it's important to get them to a veterinarian for a thorough examination.
YOUR LOCAL DOG SITTING, DAYCARE, AND BOARDING FACILITY
Safe Journey Dog Boarding is Portland, Oregon's (and surrounding areas) premier place for dog overnight cage-free boarding, dog sitting, and doggy daycare. At Safe Journey, your four-legged friend will always be free to roam, play, and socialize 24 hours a day, 365 days per year. With us as your daycare providers, you don't have to worry about the quality of care your pet is receiving after drop-off. Our dog boarding and dog daycare facility provides a safe, comfortable, relaxed, home-style environment for your dog. This minimizes your and your dog's stress and anxiety while you are away. Our high-frequency dog visitor clientele helps ensure that your dog is able to hang out with a well-mannered dog pack. Many of your dog's playmates at Safe Journey have spent hundreds and even thousands of days here with us. Check out our website for our daycare packages.
Dog parents can have peace of mind knowing that we offer:
A cage-free environment
A fun environment for your pet
A comfortable environment for your pet
An outdoor space for your dog to play
Indoor facilities
Off-leash, open-play environment
Overnight dog boarding services
and more! If you have any questions or concerns, feel free to check out our FAQ or call us today.